May, 2017 - Pre-Season Update
Sponsor News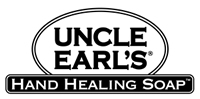 Great News! Uncle Earl's Hand Healing Soap is on board once again as a major sponsor for the 2017 season. They've been with us since we first started racing the Susie Q Funny Car in 2011. Not only do we appreciate their continued support, but we love using their products and enjoy being their ambassadors.
Uncle Earl's can clean the dirtiest hands better than anything we've tried. It was developed for machinists and mechanics so it's made to clean up even the toughest dirt. It comes in bar, liquid and foam; made with all-natural ingredients that penetrates deep into the skin, moisturizing and healing cracked damaged hands. We use it every day, in the shop, at home, and especially at the race track. Find us at the races and you'll find Uncle Earl's.
Susie Q T-shirts. New! On Sale Now!
We recently took delivery of brand new T-shirts from Shirt Works, located in Gaylord, MI. They gave us an awesome design and print job and we can't wait to share these with all our fans. Shirts are available in both black and white, in men's, ladies V-neck, and kids sizes. Stop by our pits at any of our events this summer to get one of these awesome T-Shirts.
| | |
| --- | --- |
| Back | Front |
Shop News: It's a Race Against Time
Long before a team ever gets to the track for the first event of the season, another race is underway. In the Christophersen race shop, the off season involves a complete tear down of the motor and transmission, analyzing wear and tear on parts and deciding what can be reused and what needs to be replaced.
So much goes into this effort that it's impossible to document it all. So just for those who are interested, I've tried to capture a few of the steps involved in getting the powertrain ready for another season of racing.
| | |
| --- | --- |
| Checking torque converter internal end play. | Lencodrive ready to go. |
Although we had no issues with the Lencodrive last summer, it still went on the bench for a thorough inspection. All it needed was some new bearings, new clutches and steels to be ready for another race season.
We'd been running the same Diamond pistons for three years so it was time for a refresh. The motor got a hone job, new

Diamond Pistons

and new rings from

Total Seal

.

The heads went to

Total Flow

to have the valves and seats tuned up.
| | |
| --- | --- |
| Checking valve timing | Measuring bell housing run out |
Everything was going back together just fine until Steve ran into this one little problem. Last winter, when disassembling the engine, Steve discovered a broken main cap. There just aren't many parts on the shelf for this vintage JP-1 block and he ended up having to find someone to make it. Pro-Gram Engineering helped us out, but a new main cap meant the block had to be line bored and honed. All this was done a while ago and it wasn't until he tried to put the front cover on and turn the motor over that he discovered the problem. When the engine was line bored, it changed the geometry between the crank, the cam and the idler gear just enough to cause things to bind. It took buying several extra parts, waiting for delivery from the west coast, and some fancy machine work by Mr. Fix It (Steve) to finally get things right. Unfortunately, that ordeal put us about two weeks behind schedule.
The 8-71 Kobelco Blower went to Fowler Engines in Columbus, OH, for service over the winter and is sitting back atop our blown alcohol Hemi.

The ignition went to Bob Wyman at System 1 Pro Ignition It has been checked and serviced and ready to install.

Susie Q's new designer shoes – from Hoosier. It's best to start the season with fresh tires, even if the old ones aren't completely worn out. Each tire has to get mounted and balanced before they go back on the car.
As for the trailer, getting it ready for another season was more involved than expected. Besides the normal service to the wheel bearing and brakes, Steve had to make some repairs the frame. It seems the many miles and rough roads we travel have taken their toll.
Thank goodness for Steve's many talents, ingenuity and determination. I help where I can, but Steve does most all of the work. I can't begin to measure all the hours he spends and how much work it is, just so we can go really fast for just a few seconds. Thank you Steve.
If all goes as planned, we should be able to fire the motor this week. Now if Mother Nature will just cooperate maybe we will have at least one day at the track for testing before we leave for our first race. It's our first points race with the NDRL, May 12-13, at Gateway Motorsports Park. Check back for race updates in a few weeks. Wish us luck and thanks for following.
Susie Q