Uncle Earl's is Proud to be a Sponsor of Christophersen Racing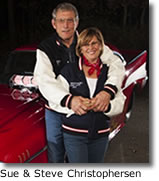 Christophersen Racing is located in Clarkston, Michigan, and is owned by Steve and Sue Christophersen. They started racing together in the early 90's at the Bonneville Salt Flats where they both earned lifetime membership in the Bonneville 200 MPH Club. Currently they own a rear engine dragster and a blown alcohol nostalgia funny car. Both Steve and Sue Christophersen are licensed drivers and work on the cars together, however, Sue is the primary driver and Steve is the engine builder, fabricator and crew chief.

The dragster is a 225" Spitzer chassis powered by a 542 ci big block Chevy with a Power-Glide. It runs in the mid 7's at 175 mph.
The Susie Q is nostalgia blown alcohol funny car with a 125" wheel base on a chassis built by Straight-Line Design and a '57 Chevy fiberglass body. It's powered by a 528 ci Hemi with a 3-speed Lencodrive. The funny car has runs in the low 7's, over 185 mph, and the Christophersens hope to have it running even faster this next season.

Check out our race schedule for a listing of our up coming events.
Please feel free to contact Christophersen Racing for more information about their racing schedule and sponsorship opportunities.